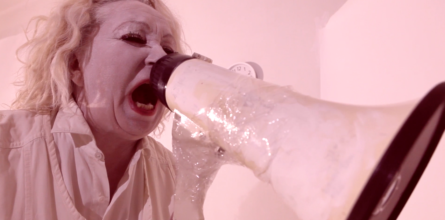 TAIKE Arts Promotion Centre Finland, Artists association MUU, Platform, Vita Kuben and Konstfrämjandet Västerbotten co-operate in arranging two screening- and networking events on both sides of Kvarken, in Vaasa, Finland and Umeå, Sweden.
The first of the events takes place on the 5th of June in Umeå, in Konstfrämjandet Västerbotten at 16.00, beginning with a videoscreening and artist talk which are part of the Performance Voyage 7 tour. Artists gather to discuss themes of performance and activism central to Performance Voyage 7, and regional artist Marika Räty from TAIKE presents the project LADAF, Live Art Development Agency Finland.
The tour continues the next day in Vaasa, Finland, where a screening and artist talk is arranged in Platform studio at 18.00 on the 6th of June.
Performance Voyage 7 – Protest song competition
Protest songs are typically associated with movements calling for social change, and this ethos comes across strongly in the selection of works in Performance Voyage 7. The video performances reflect current political and social phenomena widely, and defend personal, environmental, political, and philosophical spaces through art.
Performance Voyage 7 participating artists: Kuesti Fraun, Kim Dotty Hachmann & Steffi Simmen, Sasha Huber & Petri Saarikko, Heidi Kilpelainen, Francois Knoetze, Timo Kokko, Paweł Korbus, Vik Laschenov, Elin Magnusson, Elena Mazzi, Iwona Ogrodzka, Ignacio Pérez Pérez, Arja Renell, Kikka Rytkönen, Julia Schicker, Jukka Silokunnas, Niko Skorpio ja Elizabeth Wurst. The collection was curated by Heidi Kilpeläinen (artist), Jaakko Nousiainen (Head of Arts & Culture, Finnish Institute in London) and Timo Soppela (Director, MUU).
TAIKE Arts Promotion Centre Finland
LADAF – Live Art Development Agency Finland
Artists association MUU
Vita Kuben
5.6.2017 at 16.00
Konstfrämjandet Västerbotten
Kungsgatan 34, Umeå, Sweden
http://vasterbotten.konstframjandet.se
6.6.2017 at 18.00
Platform studio
Kasarmi 14, Korsholmanpuistikko 6, Vaasa, Finland
www.platform.fi