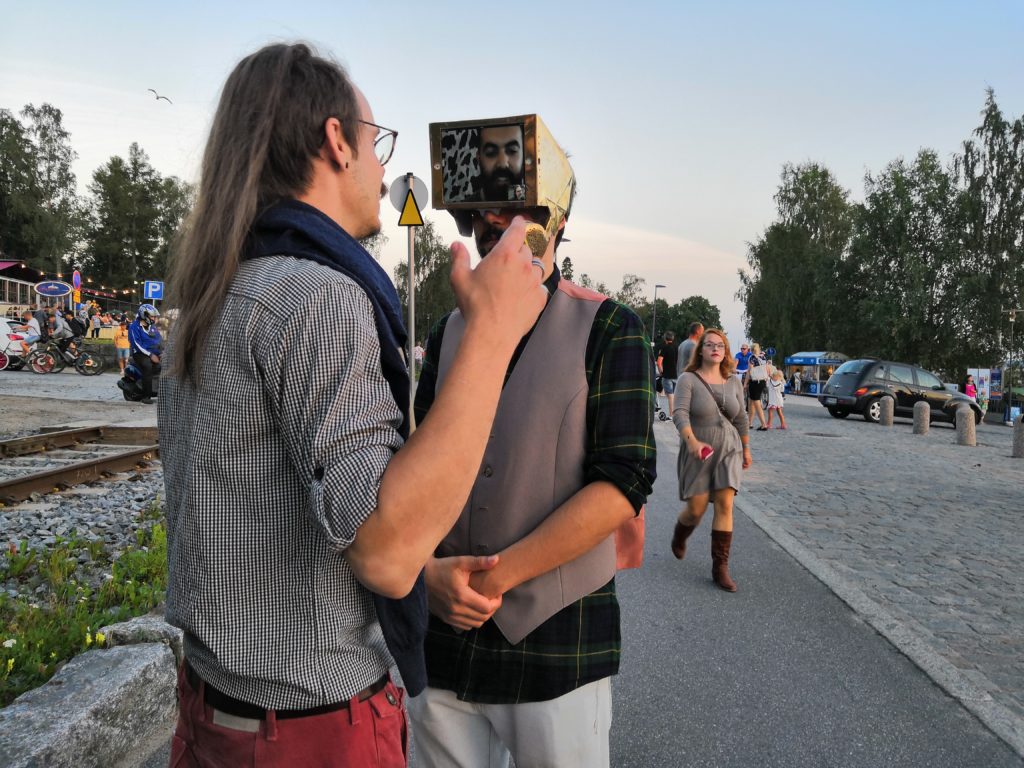 During the Night of the Arts in Vaasa Platform together with Filmverkstaden will introduce the collaboration "Platform Live @Kuntsi" that will be spanning throughout the fall of 2018. Platform has invited Yassine Khaled and his performance Monitor Man. Filmverkstaden will present their current Artists in residence Aga Jarząb & Maciek Bączyk. They mainly explore analogue animation techniques such as hand-drawn, cut-out or direct cinema and enjoy manual contact with film and production process itself. kinoMANUAL creates films and objects that correspond with a rich tradition of moving images, kinetic art and experimental cinema.
kinoMANUAL live show is an audiovisual concert consisting of minimalist and experimental music played on unusual analogue EMS synthesizer and animated visuals based on kinoMANUAL short films.
Monitor Man, Yassine Khaled creates an embodiment of virtual communication in public space. The artist wears a helmet affixed with an iPad, which offers a real-time connection to a person outside of Europe and Western world. Using technology and his own body, Khaled's performance transgresses actual, national borders which separate people. The performance is an opportunity for people to meet with someone who is physically far away and restricted in their freedom of movement. Monitor Man was inspired by the current refugee crisis and how it is unfolding in relation to the internet, social media, and the omnipresence of technology. The project began on the streets of Helsinki, but is ongoing, as the artist presents the work in different locations around the Western world.
Comments closed