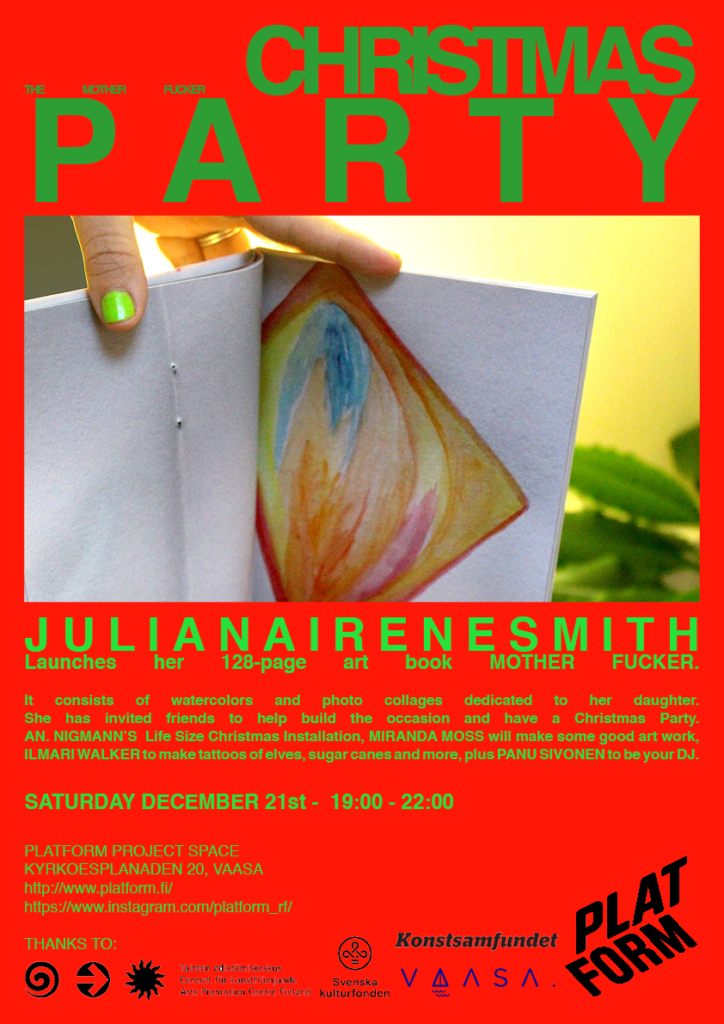 MOTHER FUCKER.
She is not your mother – I am your mother.
CHRISTMAS PARTY
The project 'Mother Fucker: She is not your mother – I am your mother,' is a 128 page art book by Juliana Irene Smith with an edition of 50 signed copies. It consists of watercolors and photo collages dedicated to her daughter.
She invited the emerging talented artist Ansa, an art student in Jakobstad, Miranda Moss a gifted artist friend from South Africa, Ilmari Walker the tattoo artist and activist and Panu Sivonen of the Vaasa orchestra and DJ extraordinaire to help create the Christmas spirit and the launch of her book at PLATFORM.
In 2014, Juliana Irene Smith founded ALMA MARTHA an artist host initiative in Cape Town with the motto – She is not your mother. It  was meant to say – break the rules, no one will tell you what to do. Now she is a mother of a one year old girl, Frances Bird. She is her mother.
Her background is complicated. At 15, Juliana Irene Smith found out that her mother was raped and that her stepfather was a bad man. Since those early days, she turned to art and paper as a way out. At a young age she remembers looking to Frida Kahlo and how she turned the pain from the bus accident into stories with creatures at her bedside. Juliana's artistic work has been about the effect of inter-generational trauma and post trauma. It has been about coping with it and how to create narratives for viewers that allow them in and at the same time while facing her own fears and vulnerability. She uses humor and sarcasm as a medicine of relief for both herself as well as those who come in contact with the work.
Now as a new mother her  awareness towards her behavior and narrative with the young daughter are more alert than ever. How will her history affect her child?
Comments closed