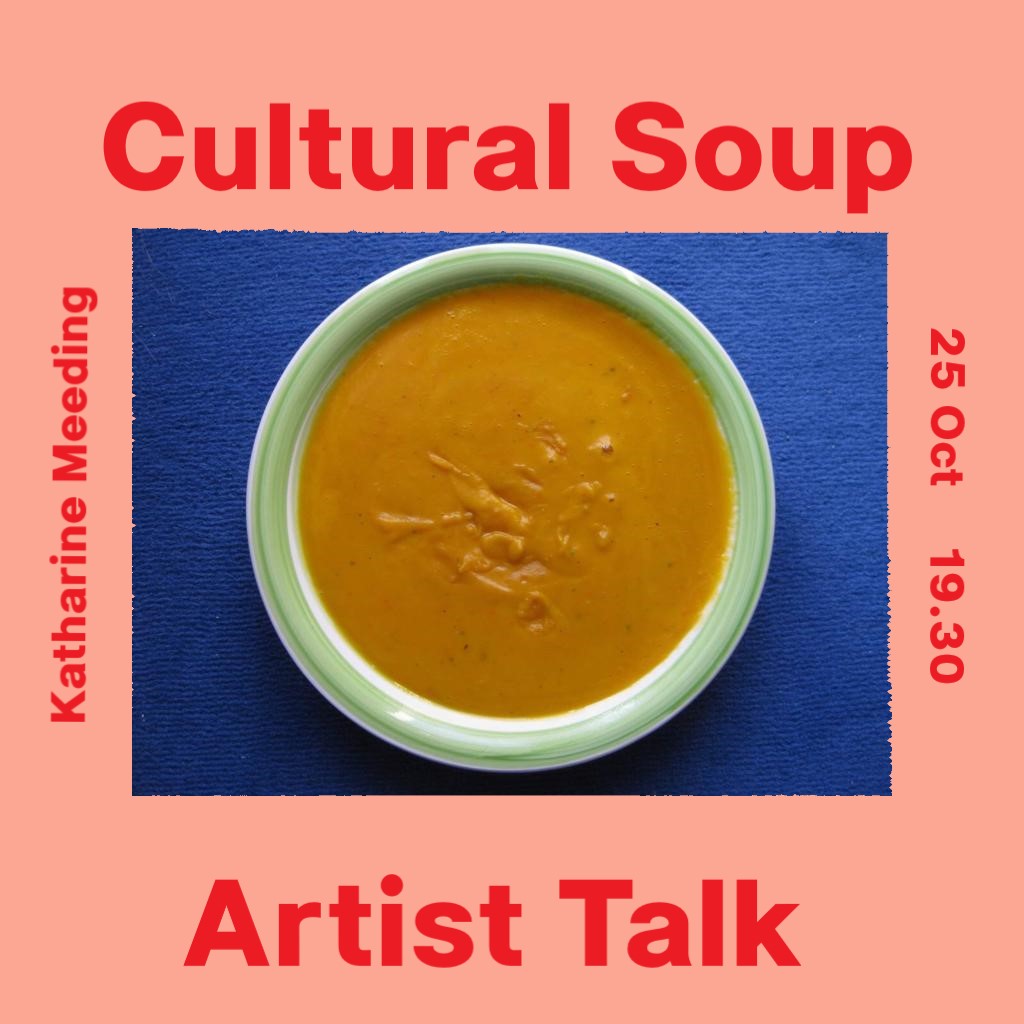 Come have a free bowl of soup and listen to the Artist Talk of Platform's newest artist-in-residence Katharine Meeding (South Africa).
From 19.30 we are serving soup and at 20.00 the Artist Talk will start!
Vegan-Friendly Soup!
Kyrkoesplanaden 20 D
Welcome!
Optional assignment by the artist:
'Liefkoos' (Caress) – by Loftus Marais
I bring you these old fashioned words
on my palm
one for one:
here is hartstog (passion) –
it's a spiky light purple root and tastes medicinal
if you lick it,
and aanvly (to caress) is a hot ribbon
broad smooth möbius-like and golden,
I bring kafoefel (canoodle) to your nose
and the pinch of jet black powder smells like grass
the crystal of vlerksleep (to court)
you rub between
fingertips, says it gives a static, electric
sort of charge,
I laugh
I lift the shell skattebol (sweetheart)
– so small –
up to your eye,
you inspect patterns splattering the exterior
and ask me, maybe there is something inside?
This is a poem by one of my favourite Afrikaans poets, Loftus Marais. I translated the poem
to English. The original Afrikaans words I left in italic, the English translations are in
brackets. While translating the words, I realised how much is lost in translation or how an
essence or a feeling of a word simply cannot be translated.
Language is a formless phantom that disappears the harder we try to grasp it. Even when
we communicate with a lover in the same language, the understanding of the meaning is
often different from one person to the other.
Our concept of words and what we try to say to each other are fragmented or lost in
translation.
The poet describes these words or concepts with physical objects, thereby giving them a
tangible form and a personal feeling that is more direct and understandable.
I would like you to think of a word in your mother tongue that has a special meaning for you
and that you feel might be difficult to translate. It can be related to love, but it is not
necessary. I know for instance the Finnish word 'sisu' can't be directly translated into
English. Next, think of an object or objects that personifies the word for you. Think colour,
shape, texture, feeling.
Please bring the object/objects or if you want a photo/collage to Culture Soup.
Comments closed