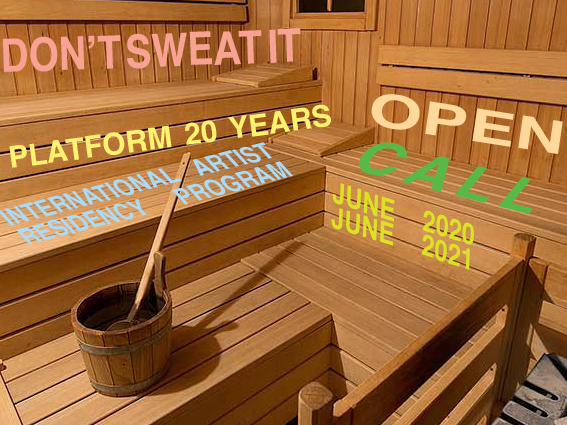 DON'T SWEAT IT
PLATFORM 20 YEARS
OPEN CALL – INTERNATIONAL ARTIST IN RESIDENCY PROGRAM 
JUNE 2020 – JUNE 2021
Application Deadline 20 October 2019
Results end of November 2019
The past few years the Platform Open Call has included themes like, Buffer Zones and the Prophecy. This year as we honor twenty years of Platform, we wanted to feel more celebratory, playful, we can do it, we will be superheroes over evil, forget the BS and do it, make it, be inclusive, be active and if everything fails, it is going to be alright. Everything is OK.
We decided to ask your local Platform team of volunteers and board members, what they thought of 'Don't Sweat It.' Here are the results:
What Johan says (current Platform Chair):
Don't sweat it or sweat it as much as you want. I worry all the time. Like a few weeks ago when I was in the sauna I worried that my face was going to melt. Or I didn't really worry at that exact moment because I was having a good time. But I worry now about what if it actually would have happened. Better safe than sweaty!
Juliana thinks to herself… "I hate to sweat… but I love to feel strong. Margarita yoga?"
Janika laughs loudly and yells: "BLOOD, SWEAT & TEARS"… followed by a little giggle.
Geir feels like not sweating something is a weird analogy, as he thinks the moisture dripping out of one's pores is quite relieving. Skip the cerebral antiperspirants and let that shit flow.
Zarah gets lost in a train of thought that ends with a playful picture of jumping on rocks by the water while feeling playful and carefree with bare feet and dirt under your nails.
Arvid contemplates: Is my work relevant? Does it matter? Do I fit in? How can we save the world? The north pole is melting, plastic soup floating around in the oceans. Do I have to update my mac to Mojave? Don't sweat it. Just get your ass over here, I want to meet you. Or in more polite words, interhuman relations are all that matters to me.
What project could you imagine doing in the following year that may work with this theme? What expectations do you have of the residency program and its role in it? We are looking for longer term projects with a minimum of two months and preferably three months in duration.
We offer accommodation, travel expenses (one return trip, cheapest possible) and a working grant (approx. 300 € per week). We also offer a small production budget of 1000 €, which the artist may reimburse by presenting original receipts of purchases, specifically connected to the project produced during the residency. The apartment is located near the city center in Vaasa. There is a bike, a set of tools and equipment available for the artist. There is wireless broadband access in the apartment. Platform does not at the moment house a studio, however a project space in the city center may be available. The planned projects have to take this into account, space can be rented or borrowed if needed for the realization of the project and has to be negotiated in advance. The artist is given a contact person who is in charge of necessary arrangements, but note that this is voluntary work so if any additional assistance is needed it has to be agreed upon well in advance.
We ask the artist to realize a project, which can be presented either during the residency or at a later stage. The artist is expected to give a public talk, performance or workshop about his/her/their work or an introduction to yourself at the beginning of the residency. We expect the artist to be able to communicate in English, Swedish or Finnish. We require the artist to spend at least 80% of the residency's duration in Vaasa and the working grant is proportional to days spent in Vaasa. The artists are required to submit documentation of the produced project to Platform, as well as press release / information text / informal report or equivalent.
Application procedure
Please follow these instructions closely. Applications not following these requirements will not be considered. We require the artist to send a digital application to info@platform.fi with the subject 'Residency Application 2020/21' by the 20th of October. The application should be one PDF document with your full name as the title of the document. Don't paste any relevant information in the email that is not part of the PDF. Please include the following in the PDF:
An informal project plan or motivation letter, max one page. The aim of the letter should be describing the kind of project you imagine doing in Vaasa and your motivation to apply for this residency and how you see that your artistic work connects to the theme of Don't Sweat It. The project plan should also include your preferred period of time, and state if the time period is relevant for the project as well as clearly state what time/ times that aren't suitable.
Descriptions and images of 5 projects or art works. For videos, please add direct links to websites in the PDF.
A CV of max two pages, including: name, date and place of birth, current location as well as email and phone number.
The application shall occupy no more than 12 pages and 5 mb. All submitted material should be Macintosh compatible. The board of Platform will make the selection. Only chosen artists will receive a notification about the selection at the end December 2019. The board is under no obligation to justify the selection. If you have questions about the residency please ask them well before the deadline. Since Platform is a voluntary community response times may vary.