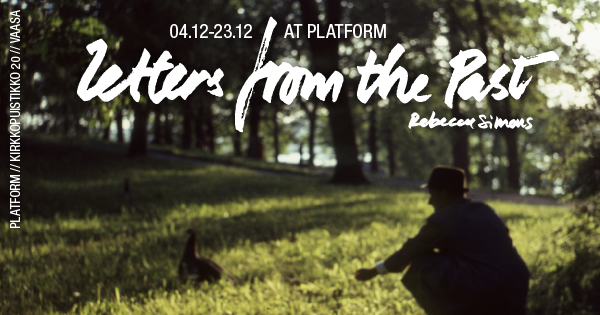 04.12.-23.12 
Rebecca Simons: Letters from the Past
an exhibition at Platform/Filmverkstaden project and event space, Kirkkopuistikko 20, Vaasa
Opening night 08.12.2018 at 18:30. Welcome!
The exhibition is open: 4-23 Dec / Mon-Fri 13.00-18.00 & Sat-Sun 12.00-16.00
In 1946 a woman writes to her newfound love: "Now it seems just a dream that you were ever here, but what a dream it was! These have been the most wonderful days I have ever experienced." Sixty years later her granddaughter receives a reply from the same man: "When you see who is writing, I hope it doesn't disgust you so much that you refuse to read on. I get no peace of mind if you can't forgive me…."  
Life is not always as black and white as the Hollywood idea. As reality seeps in, so do the nuances of grey, clouding our clear distinctions between good and evil, right and wrong. ​​In Letters from the Past we meet a gentleman, a funny grandfather, vulnerable children, broken hearts, forgotten feelings, menacing but also hopeful letters and thoughts. The protagonist is both someone's ideal man and another's offender. Clashing realities dating through half a century are braided together in an installation and linear-narrative film.
Letters from the Past is a multimedia project by Rebecca Simons. Since 2016 she has been collecting and recording a part of family history that we usually choose to leave untold. With this project she wants to encourage others to speak out, yet not stop at the act of pointing a finger but to open the conversation and break circles in order to avoid history repeating itself.
CREDITS:
Concept & curation: Rebecca Simons
Video & photography: Rebecca Simons / Henrik Selin
and the family's home videos.
Production advice: Jukka Rajala-Granstubb / Elin Grönblom/ Melissa Prins
Video editing: Rebecca Simons / Bo Forsander
Music & sound design: Viljam Nybacka
Graphic design: Nick Kailola
Text editing: Rodney Bolt
Color correction:Bo Forsander
Voice of Tete: Anna Högström
Voice of Henko: Axel Hanses
Exhibition production: Andréas Bergdahl
Educational program: Rebecca Simons / Cecilia Flygars, Klaara
Much gratitude and love to my brave family for daring to share our story!

The project is made possible by Swedish Cultural Foundation in Finland, Arts Promotion Centre (Taike) and Platform. The educational project is developed in collaboration with the youth organization Klaara.
Comments closed