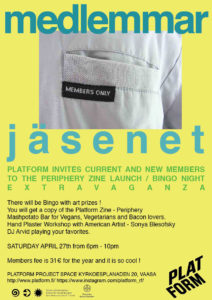 medlemmar
jäsenet
PLATFORM invites current and new Members and people curious to become members… 
to the periphery zine launch / bingo night extravaganza
Come and check it out, talk to us, express yourself.
There will be Bingo with art prizes !
You will get a free copy of the Platform Zine – Periphery
Mashpotato Bar for Vegans, Vegetarians and Bacon lovers.
Hand Plaster Workshop with American Artist – Sonya Blesofsky
Clay + Beer mini exhibition and pick up.
Videos by Herman de Klerk
DJ Arvid playing your favorites.
SATURDAY APRIL 27th from 6pm – 10pm
Members fee is 31€ for the year and it is so cool !
PLATFORM PROJECT SPACE KYRKOESPLANADEN 20, VAASA